Does your sedentary lifestyle leave you
frustrated, bored and depressed,
but you're not sure how to get out of that rut?
You may need to REWILD!
Hi! We are Kiki and Bert 
We have been traveling through some of the wildest, most beautiful and special places in this world seeking to learn more about First Nations and nomadic cultures. Because of these explorations, we have gained an enormous respect for our planet and its many different people, creatures, and plants.
We advocate for the natural environment and for indigenous peoples. We enjoy sharing our experiences with people in hopes of stimulating them to go out and discover their true selves in nature. We are constantly looking for ways to rewild with our family and friends, and lead a healthier, happier lifestyle.
OUR MISSION
As a Rewilding Lifestyle Coaches, our mission is to help people overcome the negative effects of urbanization and domestication, and discover a freer and more natural way to eat, sleep, move and exercise, play, and relax.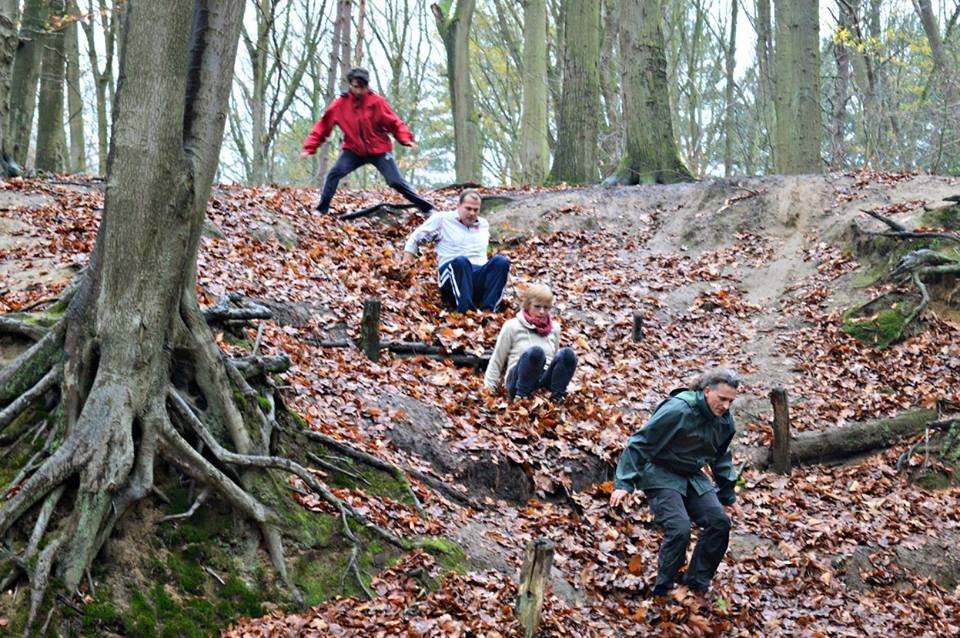 Did you know that:
Once upon a time, I was an average city slicker, living in the Spanish capital of Madrid. Little did I know that pine forests and high mountains were to be found just a one-hour drive from my home! The only plants I knew where the geraniums on my balcony. And as for the animals, it boiled down to the neighbour's dogs and cats. But then one day, the most handsome man in Belgium turned up on my doorstep (Bert), and he kindly taught me the natural beauty spots of my own city.
After graduating from Madrid University, I became a little more aware of the nature surrounding it, and I started to show some interest in healthier foods and a different way of living. But I was still trying to be a rat in the Rat Race. Of course, instinctively I knew that getting closer to nature would bring some balance and peace in my life, but I was still coping with the unhealthy and unsatisfying side effects of modern society.
My job at a Belgian Airline company gave me great opportunities to travel. Together with my partner, Bert, I started exploring and going on remote adventures and expeditions. My fondest memory is the blessed chance of spending time in Canada with amazing persons like  Anishnabe Kokom ("grandmother of the community"), Louise Wawatie. Louise was a true source of inspiration for me. She was the first to encourage me to "find out what I loved and go for it." At this point, I decided to make some drastic changes in my life to achieve the wonderful goal of returning to a more natural and simplified lifestyle.
To achieve this:
I started to learn about wild foods, medicinal plants and herbs. I not only became a certified Herbalist and Aromatherapist, I also became a survival, bushcraft and natural movement enthusiast.
I got rid of all the chemicals surrounding my home and family and replaced them with homemade, organic, plant-based products.
I began to spread the "natural" word by organizing workshops and creating my own blog.
Currently, I am becoming a Health and Life Management Coach. Increased introspection and self-knowledge over the past two years have helped me to see more clearly my mission on this planet: to put my knowledge and experience to the service of others.
"If you don't live to serve, life doesn't serve you"
Nine facts about me:
I spent my childhood climbing trees, running, crawling, jumping through woods and fields, and building camps.
At the age of 9, I was a devoted fan of the American TV series created from the James Michener book, "Centennial," with Pasquinel, the fur trader as main character played by Robert Conrad. A year later, a new TV series came out called 'How the West Was Won." I knew from that day on that I was going to develop a strong attraction to First Nations tribes. This interest developed into a fierce passion for all nomadic people and tribes living close to nature in general.
When I was studying in Madrid, I spent as much time as possible in the surrounding pine forests and mountains, where I started to dream of a nomadic life filled with adventures and expeditions that would take me to the four corners of the world.
I became a bit of a "professional nomad" with my first job as a steward and then as a purser for a Belgian Airline company. This job gave me the chance to travel to many amazing places like the Canadian Rocky Mountains where I was able to meet Native Americans for the very first time.
I really fell in love with Canada, and returned there many times. People of The Manawan, an Atikamekw First Nation village in Québec, were immediately warm and welcoming. I also had the chance to learn from extraordinary people such as Anishnabe Jacob and Louise Wawatie, and others from the Atikamekw, Micmac and Huron First Nations tribes.
In the following years, I met the Mongolian nomads. I have also witnessed the unusual beauty of icebergs from Greenland, the vastness of the most beautiful lake in Lapland and the overwhelming solitude of the Atacama Desert in Chile.
Ray Mears, Woodlore founder and world-renowned authority in the field of bushcraft and survival, has been one of my biggest inspiration sources in this field while undergoing training courses in Belgium, Holland and Scotland. More and more, the outdoors has become the obvious training field for my workouts, especially when preparing for an upcoming adventure or expedition.
I was also inspired by Erwan Le Corre, founder of MovNat, and his vision and views on natural movement. In 2010, I had the amazing chance to follow a two-day training course with him in Glasgow, followed by two hands-on workshops in Belgium.
I am a certified Life Coach, a certified Medic First Aid and a Wilderness First Responder (WFR), Hiking and Survival Instructor, Spartan Training Coach and co-founder of Rewilding Drum.
We would love to get in touch with you.
Join our community for free and you will receive:
The Rewilding guide in 8 steps

Fortnightly Strategies to return to your natural state

Ideas for a lifestyle free and wild